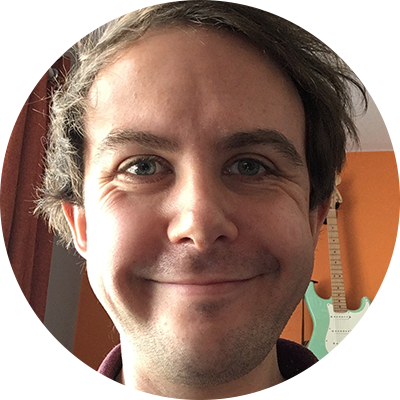 James Rock
Freelance UI Developer
hello@jamesrock.me
07936250300
Highly proficient developer with over 10 years commercial experience. Whatever I do; I do it well. Also husband, father, musician, magician, writer and editor.
React + Redux
Node
JavaScript
HTML
CSS
Object Oriented Programming
Functional Programming
User Experience
Information Architecture
Copywriting
sass
npm/yarn
webpack
git
AWS
Craft CMS
Sketch
macOS
4 months, May 2019
Produced 3 sites based on Craft CMS. See InColchester, IpswichCentral and TheJunction.
6 weeks, April 2019
Added further functionality to the agency's existing website and produced an interactive annual report for Vodafone. See Vodafone Annual Report 2019 and ry.com.
2 weeks, April 2019
Produced an interactive map and quiz for Anglian Water Careers. See anglianwatercareers.co.uk.
2 weeks, March 2019
Rebranded the agency's website. See ry.com.
9 weeks, November 2018
Produced the studio's website, based on Craft CMS. See 2br.com.
We had the pleasure of working with James over several months on a web-based project. The project was based on a CMS he was unfamiliar with but he was fast to get his head around it. James was able to seamlessly adapt to our way of working and was quick to (repeatedly) turn our ideas into reality. Looking forward to working with him again soon.

- Tyson Edwards - senior designer at Studio 2br
20 months, March 2017
Working as part of HSBC's Connect Transformation team, initial responsibilities were to develop upon an existing internal platform, which was later re-written in React, before being handed over to off-shore teams. Other responsibilities included drafting technical design proposals, liaising with an external creative agency, technical documentation, supporting off-shore teams and managing code merges.
12 months, November 2015
Produced a Fantasy Football game for Sky Sports which sees regular TV promotion and is played by over 100,000 users each game round. Features include live scoring, live player stats, live leaderboards and live leagues. I was front-end lead on the project for the duration, within a small five-person team.
James is a highly skilled front-end developer with a very keen awareness of the overall user experience. The combination of design skills, knowledge and understanding of development and quick pace of delivery made James a very valuable member of our team. The end result of the product is testament to James' input and support he gave the project over the time he worked on it. It was a pleasure to work alongside him. He made a big impact on the entire team.

- Cerven Cotter, UX Lead at GFM.
7 weeks, September 2015
Worked as consultant at RBS to develop a responsive prototype as part of an overhaul of their NatWest commercial banking platform. Responsibilities were to ensure that any technical limitations were not exceeded, to contribute ideas, and to respond to feedback from regular rounds of user testing.
6 weeks, July 2015
Maintained various high-traffic sites during an extended period of leave cover.
1 week, June 2015
Produced a responsive micro-site for a well-known car manufacturer.
3 weeks, June 2015
Produced a 'heart disease risk calculator' for a well-known healthcare brand.
6 weeks, May 2015
Produced a range of responsive components for shell.com.
I had the pleasure of working with James on a small site prototype. The turn around was quick, he was only with us for a few weeks, but his attention to detail was very impressive. He matched my designs perfectly which saved me having to spend a lot of time on QA. That in turn enabled us to work closely together to fine tune and tweak the interactions and responsive layouts of the prototype. In short we got a lot done in a short amount of time which looked and worked beautifully.

- Tony Goff, Freelance Designer.
5 weeks, March 2015
Produced two fully responsive sites.
3 days, February 2015
Produced a responsive micro-site for a well-known cosmetics brand.
1 day, January 2015
One-day consultancy placement providing general technical direction for the design and implementation of a responsive framework.
James was hired to work with me in a consultancy role to provide technical direction for the implementation of a responsive framework. I found James to be extremely knowledgeable and a pleasure to work with. I would strongly recommend James to anyone seeking advice, technical direction or strong front-end skills.

- Wayne Lavender, Front-end Developer.
2 months, November 2014
Produced various responsive components as part of an overhaul of a leading animal charity's website.
1 week, October 2014
Produced a fully responsive micro-site.
7 weeks, August 2014
Retrofitted an established website for clothing brand Fat Face to be fully responsive.
4 weeks, July 2014
Produced a responsive micro-site for a US-based healthcare brand.
5 weeks, May 2014
Produced a responsive 'Foreign Exchange Calculator' component as part of an overhaul of one leading high-street bank's online offering.
3 months, February 2014
Produced a responsive micro-site as part of an international promotional campaign for Ben & Jerry's ice cream.
I worked with James at Maynard Malone on projects for Ben & Jerry's. He is a very skilled front-end developer with a considerable talent for translating customer requirements, corporate graphic designs and Agile iterative development into robust, fluid and responsive designs. He is easy to communicate with on both a personal and technical level and he an asset to anyone requiring their front-end code to work right first time.

- Brian Butterworth, Freelance PHP Developer.
1 month, December 2013
Produced a 'Postage Finder' web-app for Post Office.
1 month, October 2013
Produced a fully responsive website for CAT Phones.
3 weeks, September 2013
Produced a 'Perfect Bar' web-app for Heineken. Features include dynamically rendered visuals of suggested pump, fridge and product placement configurations for a range of outlet types based on research data.
2 weeks, September 2013
Produced a responsive micro-site for an event held by Club Carlson.
6 months, February 2013
Produced and refactored various components for both nectar.com and Nectar API.
6 months, August 2012
Produced a feature-rich financial spread-betting web-app for a financial start-up. Working closely alongside company CTO (Java developer), I was front-end lead for the duration of the project. Features included real-time market data, live 'sentiment' analysis, and a fully customisable widget-based interface.
2 years, August 2010
Developed and maintained a business-critical restaurant booking app (Flash, ActionScript 3) and accompanying JavaScript API, configuration tool and automated test suite.
18 months, February 2009
Produced and maintained various front-end components and frameworks. Also proactively overhauled the entire front-end of the company's white-label offering.
11 months, March 2007
Produced a Flash game and several micro-sites for household brands.
Many personal projects can be found on my GitHub page at github.com/jamesrock.